Classy & convenient
Hair mask cap "sauna effect"
Ref.:

000370
Using Thai fabric, this home-made hair mask cap is intended to be used when you apply a mask, coloration, treatment or herbal hair care on your hair, needing to stay in place and on warmth.

WE ARE SHIPPING WORLDWIDE FROM FRANCE.
PLEASE EMAIL US FOR ANY INQUIRIES...
HAIR MASK CAP

The hair mask cap is available in several colors, all made from Thai fabric.
The towel lining and the "easy-to-attach" design of the hair mask cap make this accessory ideal for any mask, coloration, treatment or herbal hair care to be kept warm on the hair as long as required for the best effect.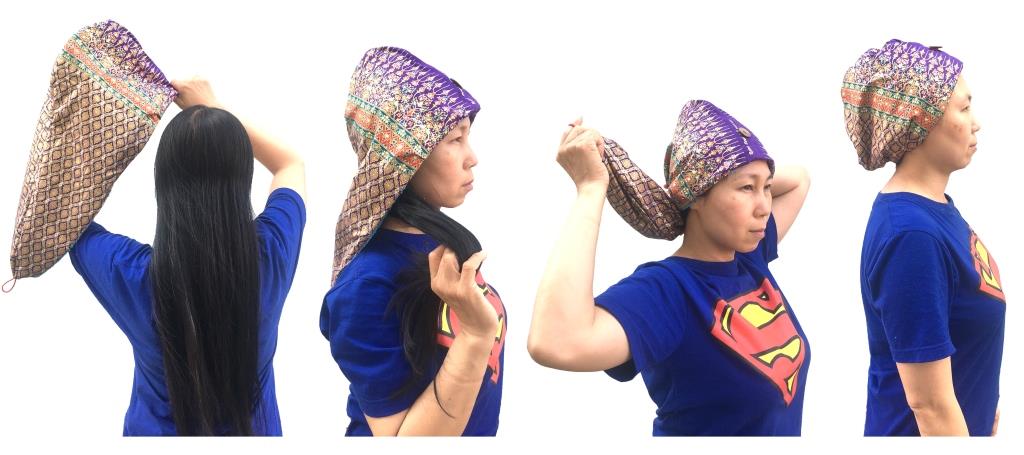 WHAT IS THE POINT ?
Not only a handy way to keep hair in place & prevents from staining, the main point is the sauna effect. Did you ever heard about sauna effect ? This is what you may need to enhance the hair treatment result as it helps the keep your hair in the warmth thanks to the hair mask cap.
Note that the color of the terry towel liner, the color of the elastic loop, or the appearance of the closure button vary depending on the arrivals.
Note also that these Hair Mask Caps are cut in large pieces of fabric whose edges are decorated differently from the central parts. Therefore, for a given color, the patterns may vary.
THAI-STYLE LOOKING : CLASSY & CONVENIENT
Home-made hair mask cap all-in-one : when applying treatment on your hair, enjoy the colorful Thai-style looking while your hair are kept in place and in warmth.
WHY SUCH PRODUCT IN "LEMON IMPORT" CATALOG ?
Junthana has long hair since she was a child. She has been using such products a long time ago but she decided to personnalize it with Thai-style fabric. Since then, relatives have been asking to get some. From now, Junthana has involved her neighbour in Udon Thani to produce some small series of Hair Mask Cap.

DRY OR DAMAGED HAIR ?
Try Poompuksa herbal masks treatment from Thailand. Fit perfectly to be applied using our Hair Mask Cap, hand-made using Thai fabrics !
---