Wellness 3-in-1 kit
Wellness herbal 3-in-1 kit
Ref.:

000360
Wellness herbal 3-in-1 kit including :
- 1 Clinacanthus Nutans balm 22g : to ease skin irritation, itches or sting.
- 1 Zingiber Cassumunar, Curcuma Longa & Curcuma Zedoaria balm 22g : Exhausted ? Scrunched ? Rocky ?
- 1 convenient Borneol Oil in a Roll-on glass bottle 5ml : Scorch ? Stinging ? Insect bites ? Aches ? Stiff neck ? Roll-on obviously !
Wellness herbal 3-in-1 kit including :
For external application, the green balm (from Clinacanthus Nutans leaves) soothes sting, burning or irritation of the skin, while the yellow balm (with Zingiber Cassumunar, Curcuma Longa & Curcuma Zedoaria actives) is an anti-inflammatory against muscle or joint pain.
For all these uses, the plant balms act by cure for 8 to 10 days, ideally in the evening at bedtime. See the dedicated product data sheets for more details.
In addition, the green balm can be used as a poultice to soothe coughs thanks to its heating effect.
Ultimately, Borneol oil in Roll-on is a mixture less concentrated than the balms but easier to apply on-the-go during the day. Just open the bottle with one hand, roll the Roll-on ball over the painful, irritated area or area to protect from insects. That's it.

Our herbal wellness kit 3-in-1 : 3 products in an essential kit. Simple, natural & handy to face daily inconveniences.
Presentation :
Wellness herbal 3-in-1 kit in its tulle bag : 34 € instead of 36 €
For more information, see fully detailed product pages on the Wellness section on Lemon Import website !
---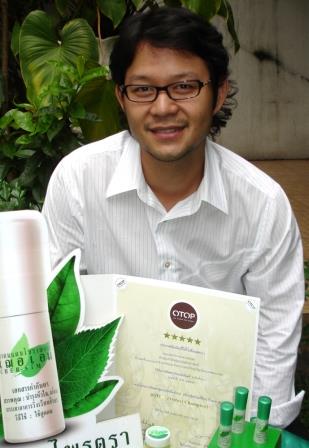 Context. Family business since 4 generation, Cher-aim provides wellness products made with Thai medicinal herbs. In Thailand, knowledge about plants & their use is shared in temples. A century ago, one of the ancestors of Cher-aim has been studying as a monk in Bangkok's Wat Pho, one of the most sacred temples, famous for its traditional medicine school. Nowadays, this influence is still being perpetuated in Cher-aim's products range.
Cher-aim. In ancient Thai, the name "Cher-aim" means fertile tree. This name takes its roots into the field of luxuriance of nature & spreading vitality.
K Tarn & his duty : transmit traditionnal knowledge about herbal uses in Thailand.
Thai traditional medicine has an approach based on energy flow across the whole body. This flows paths, disruption that may obstruct them & the way to restore them have been studied by monks & traditional healer.
Among Thai contemporary urban society, this approach still has a place. In front of disease, the purpose is to consider that the patient seeks to restore the balance by focusing on 3 ways :
An external action (especially through massage or use of medicinal plants applied onto the body)
An internal action (especially through the use of medicinal plants or specific diet)
A spirituality (especially through relaxation techniques)
Those practices were mainly influenced over time by Chinese Traditional Medicine, Ayurveda, yoga & buddhism.
Inhalers, balms, oils & other Cher-aim products are straight on line with this approach. They drew their potential from this heritage of knowledge usually transmetted in Thai Buddihst temples. Nowadays, Cher-aim still has a special relationship with the Wat Pho's traditional medicine school in Bangkok.