Wellness kit
Herbal wellness kit
Ref.:

000320
Wellness kit including :
- 1 Clinacanthus Nutans balm 22g : to ease skin irritation, itches or sting.
- 1 herbal inhaler 6g : Open breathe enjoy !
Wellness kit including :
For external use, this balm soothes stings, burns or skin irritations. As suggested by its name, the inhaler is able to reach areas which a balm doesnt have access : Just breathe 2 or 3 times, then you will feel expectorant & decongestant sinus effects within minutes. Respiratory tracts, sinus & inner ear, the herbal inhaler is the simple, convenient and effective accessory to decongest, dissipate motion sickness & of course : Breathe Better !
20 € instead of 22 €
For more information, see fully detailed product pages on the Wellness section on Lemon Import website !
---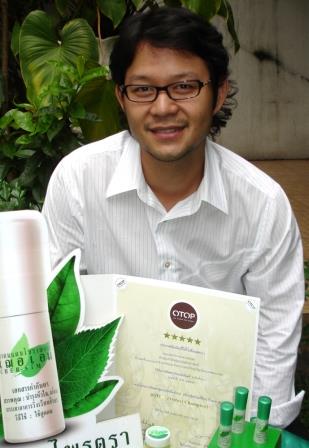 Context. Family business since 4 generation, Cher-aim provides wellness products made with Thai medicinal herbs. In Thailand, knowledge about plants & their use is shared in temples. A century ago, one of the ancestors of Cher-aim has been studying as a monk in Bangkok's Wat Pho, one of the most sacred temples, famous for its traditional medicine school. Nowadays, this influence is still being perpetuated in Cher-aim's products range.
Cher-aim. In ancient Thai, the name "Cher-aim" means fertile tree. This name takes its roots into the field of luxuriance of nature & spreading vitality.
K Tarn & his duty : transmit traditionnal knowledge about herbal uses in Thailand.
Thai traditional medicine has an approach based on energy flow across the whole body. This flows paths, disruption that may obstruct them & the way to restore them have been studied by monks & traditional healer.
Among Thai contemporary urban society, this approach still has a place. In front of disease, the purpose is to consider that the patient seeks to restore the balance by focusing on 3 ways :
An external action (especially through massage or use of medicinal plants applied onto the body)
An internal action (especially through the use of medicinal plants or specific diet)
A spirituality (especially through relaxation techniques)
Those practices were mainly influenced over time by Chinese Traditional Medicine, Ayurveda, yoga & buddhism.
Inhalers, balms, oils & other Cher-aim products are straight on line with this approach. They drew their potential from this heritage of knowledge usually transmetted in Thai Buddihst temples. Nowadays, Cher-aim still has a special relationship with the Wat Pho's traditional medicine school in Bangkok.