Borneol Oil
Borneol Oil Roll-on
Ref.:

000220
Scorch ? Stinging ? Insect bites ? aches ? Stiff neck ? Roll-on obviously !
#Handy, #Original & #Convenient

Ease aches & muscular pain : stiff neck, cramps, etc.
Ease itches : mosquitoes, fleas, ticks, wasps, etc.
Insect repellent
Packed into glass container fitted with a Roll-on : easy to use, easy to carry.
Borneol Oil in a Roll-on glass bottle : soothing & relaxing
Unique & natural fix, before or after mosquitoes
Bites ? Aches ? Torticollis ? Roll-on, obviously !
With camphor, borneol, Lavender oil and Eucalyptus oil is the discreet FRIEND to make your day using 3 different ways :
As an insect repellent against mosquitoes, tiques, wasps or fleas BEFORE THEY STUNG YOU.
To heal stings, itches & irritations IF INSECTS HAVE ALREADY STUNG YOU.
As relaxing on aches pain, torticollis, cramps : thanks to its heating effect to ease such pains.
Convenient & compact
So compact, so easy to always keep with you on-the-go. And so handy with its integrated Roll-on, allowing you to quickly put it on your neck if feeling torticollis pain or on wrists & ankles.
Just open it, roll it and it's done.
No need to wash your hands after uses.
An essential must-have to block most daily inconveniences !
Available in 2 packing sizes :
Compact - 5cl glass bottle with Roll-on (0.18 UK fl oz) = Price : 10€
Family - 8cl glass bottle with Roll-on (0.28 UK fl oz) = Price : 15€
---
Faire rouler le Roll-on sur la peau au niveau de la zone sensible. Nul besoin de masser.
Durabilité : 3 ans. Se conserve 3 mois après ouverture.
Ingrédients : menthol, borneol, camphor, eucalyptus oil, lavender oil, liquid paraffin
Conseil : Lors de la première utilisation, commencer par une application test sur le poignet pour déceler toute réaction allergique.
Mots clefs : huile apaisante / Borneol / Roll-on / Picote / Moustique / Torticolis / Piqûres / Courbatures
Contre les petits maux du quotidien : démangeaisons, courbatures, contractures musculaires, torticolis, crampes, etc.
Éloigne les insectes de façon préventive : moustiques, puces, guêpes, tiques, etc.
Faire rouler le Roll-on sur la peau au niveau de la zone sensible. Nul besoin de masser.
Peut également être appliqué sur les mollets, les poignets ou la nuque afin de réduire le risque de piqûres d'insectes.
Ce produit n'est pas un médicament. Usage externe & localisé sur peau saine. Eviter muqueuses & yeux. Déconseillé aux femmes enceintes ou allaitant & aux enfants (<12 ans).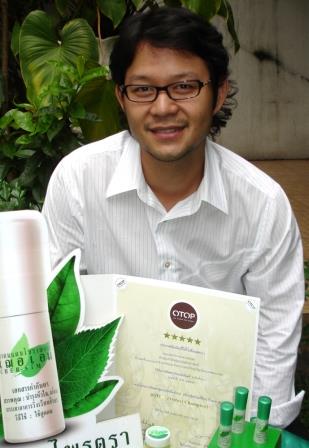 Context. Family business since 4 generation, Cher-aim provides wellness products made with Thai medicinal herbs. In Thailand, knowledge about plants & their use is shared in temples. A century ago, one of the ancestors of Cher-aim has been studying as a monk in Bangkok's Wat Pho, one of the most sacred temples, famous for its traditional medicine school. Nowadays, this influence is still being perpetuated in Cher-aim's products range.
Cher-aim. In ancient Thai, the name "Cher-aim" means fertile tree. This name takes its roots into the field of luxuriance of nature & spreading vitality.
K Tarn & his duty : transmit traditionnal knowledge about herbal uses in Thailand.
Thai traditional medicine has an approach based on energy flow across the whole body. This flows paths, disruption that may obstruct them & the way to restore them have been studied by monks & traditional healer.
Among Thai contemporary urban society, this approach still has a place. In front of disease, the purpose is to consider that the patient seeks to restore the balance by focusing on 3 ways :
An external action (especially through massage or use of medicinal plants applied onto the body)
An internal action (especially through the use of medicinal plants or specific diet)
A spirituality (especially through relaxation techniques)
Those practices were mainly influenced over time by Chinese Traditional Medicine, Ayurveda, yoga & buddhism.
Inhalers, balms, oils & other Cher-aim products are straight on line with this approach. They drew their potential from this heritage of knowledge usually transmetted in Thai Buddihst temples. Nowadays, Cher-aim still has a special relationship with the Wat Pho's traditional medicine school in Bangkok.