Borneol Oil
Borneol Lavande Eucalyptus oil
Ref.:

000220
Borneol Lavander Eucalyptus soothing oil packed in Roll-on

Compact, essential & handy against bites & contractures

Soothes wasp stings
Makes it easy to detach ticks
Relieves torticollis
Easy to apply thanks to the Roll-on

Scorch ? Stinging ? Insect bites ? Aches ? Stiff neck ? Roll-on obviously !
#Handy, #Original & #MustHave

Available into glass container fitted with a Roll-on : easy to use, easy to carry.
Borneol Oil in a Roll-on glass bottle : soothing & relaxing
Unique & natural fix, before or after mosquitoes
Bites ? Aches ? Torticollis ? Roll-on, obviously !
With camphor, borneol, Lavender oil and Eucalyptus oil is the discreet FRIEND to make your day using 3 different ways :
As an insect repellent against mosquitoes, tiques, wasps or fleas BEFORE THEY STUNG YOU.
To heal stings, itches & irritations IF INSECTS HAVE ALREADY STUNG YOU.
As relaxing on aches pain, torticollis, cramps : thanks to its heating effect to ease such pains.

Tingles ? Bzzz bzzz… Mosquito ? Torticollis ? Contracture ? Borneol oil in glass bottle fitted with a Roll-on.
Borneol
Naturally present in several plants, including the camphor tree, Borneol is very popular in traditional medicines of Asia due to analgesic properties & its heating effect in contact with the skin. It also has an insect repellent action related to its camphorous smell.
To keep insects away
Used as an insect repellent in tropical areas, it is an effective protection against the bites of ticks, fleas, mosquitoes and other insects thanks to eucalyptus. (eucalytpus globulus essential oil). This essential oil has such action because it contains odoriferous substances (cadinene, nerolidol-2, geraniol and L-alpha terpenol) that mask the olfactory marker used by insects to spot their prey.
And in case of sting, an immediate and handy soothing effect to apply with the Roll-on
In addition, if you've been stung, rolling the Roll-on on the stitch area will soothe within minutes. Extracts of lavender (essential oil of lavandula angustifolia) & eucalyptus : these 2 actives complement each other to give the oil to the terminalol its anti-inflammatory, anti-infectious & analgesic properties.
Convenient & compact
So compact, so easy to always keep with you on-the-go. And so handy with its integrated Roll-on, allowing you to quickly put it on your neck if feeling torticollis pain or on wrists & ankles.
Just open it, roll it and it's done.
No need to wash your hands after uses.
An essential must-have to block most daily inconveniences !

To choose the desired packaging size from the available formats, use the selector at the top of the page.
Availability :
Compact - 5ml glass bottle with Roll-on (0.18 UK fl oz) = Price : 10 €
Family - 8ml glass bottle with Roll-on (0.28 UK fl oz) = Price : 15 €
Big family - 6 units of 5ml glass bottle with Roll-on (0.18 UK fl oz) = Price : 55 €
WE ARE SHIPPING WORLDWIDE FROM FRANCE.
PLEASE EMAIL US FOR ANY INQUIRIES...
---
Apply on skin using the Roll-on on the sensitive area. No massage needed.
Durability : 3 years. Use within 3 months after opening.
Ingredients : menthol, borneol, camphor, eucalyptus oil, lavender oil, liquid paraffin
Notice : At the first use, try the balm on your wrist to detect any allergic reaction.
Keywords : soothing oil / Borneol / Roll-on / Scorch / Stinging / Insect bites / aches / Stiff neck / Mosquito / Cramp
---
To ease harms in daily life : insect bites, cramps, stiffs or muscular pains.
on on the sensitive area. No massage needed.
This oil may also be spread on calves, wrists or on back of neck to reduce risk of insect bites.
Caution: Be careful not to use the product on animals (risk of ingestion during licking).
This product is not a medicine. For external use only on unwounded skin.
Avoid direct contact with eyes or mucous membranes. Not recommended for pregnant or breast-feeding women, nor children under 12.
---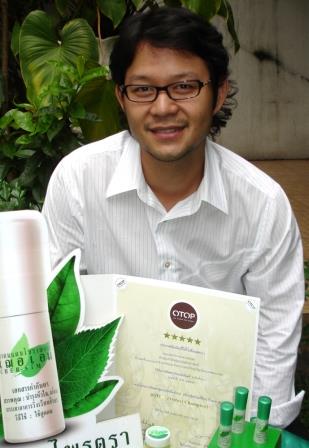 Context. Family business since 4 generation, Cher-aim provides wellness products made with Thai medicinal herbs. In Thailand, knowledge about plants & their use is shared in temples. A century ago, one of the ancestors of Cher-aim has been studying as a monk in Bangkok's Wat Pho, one of the most sacred temples, famous for its traditional medicine school. Nowadays, this influence is still being perpetuated in Cher-aim's products range.
Cher-aim. In ancient Thai, the name "Cher-aim" means fertile tree. This name takes its roots into the field of luxuriance of nature & spreading vitality.
K Tarn & his duty : transmit traditionnal knowledge about herbal uses in Thailand.
Thai traditional medicine has an approach based on energy flow across the whole body. This flows paths, disruption that may obstruct them & the way to restore them have been studied by monks & traditional healer.
Among Thai contemporary urban society, this approach still has a place. In front of disease, the purpose is to consider that the patient seeks to restore the balance by focusing on 3 ways :
An external action (especially through massage or use of medicinal plants applied onto the body)
An internal action (especially through the use of medicinal plants or specific diet)
A spirituality (especially through relaxation techniques)
Those practices were mainly influenced over time by Chinese Traditional Medicine, Ayurveda, yoga & buddhism.
Inhalers, balms, oils & other Cher-aim products are straight on line with this approach. They drew their potential from this heritage of knowledge usually transmetted in Thai Buddihst temples. Nowadays, Cher-aim still has a special relationship with the Wat Pho's traditional medicine school in Bangkok.