Inhaler 6g
Herbal inhaler 6g
Ref.:

000200
Our pocket herbal inhaler is a traditional mix of Thai dry herbs into a handy glass jar.

A leg-up easing aches and pains of daily life : weakness, cold snap, crunch time or mid-afternoon slump.

Open, breathe, enjoy !

WE ARE SHIPPING WORLDWIDE FROM FRANCE.
PLEASE EMAIL US FOR ANY INQUIRIES...
Thai Herbal Inhaler (glass jar)
WHAT IS IT ? A glass jar containing 12 Thai dry herbs to inhale.
Very common in Thailand, it's a daily-life accessory to keep in your pocket or on your desk. It contains a blend of 12 Thai crude dry herbs without any transformation (leaf, stem, bark, root, resin) kept together in a small net.
Our herbal inhaler is made with more than 10 plants, herbal extracts & aromatic essences used by Thai traditional medicine.
So easy to use : simply open the cap, then breathe. A fresh herbal bouquet spreads around without any need to touch the content.
Help to loosen respiratory congestion, ease nausea, dizziness, headache or when half-day slump shows-up by the refreshing effect of menthol & camphor.
Inside a gauze are gathered the herbs. For instance we found some Saigon cinnamon bark, known for its anti microbial effects. There is also some dried fruits from Siam cardamom which carminative properties & easing digestion make them widely used in Asian gastronomy. The camphorated fragrance combined to menthol & borneol confers to the Cher-aim inhaler refreshing & decongestant action.
This mixed herbs contains pimpinella anisum seeds, traditionally used for their expectorant & antibacterial benefits relieving cold or bronchitis symptoms.
During seasonal changes, our Cher-aim herbal inhaler remains a valuable & compact addition to our Osmanthus flower Oolong tea & our Jiaogulan herbal tea : simple & effective !
One to three inhalations are enough to experience benefits of this Thailand scents bouquet.
Life on shelves : 3 years.
Use up to 10 months after opening.
This product contains dried herbs on a camphor, menthol& borneol mix. Among them are : Eaglewood, galanga, anise, Saigon cinnamon, ancient spurge, Amomum Testaceum Ridl, Alyxia reinwardtii Blume, clove,Sweet wormwood, Pimpinella anisum.
Notice : for the first use, start with a short inhalation, holding the inhaler 10 cm away from the nose.
A leg-up easing aches and pains of daily life : weakness, cold snap, crunch time or mid-afternoon slump.
For each seasonal change, your organism must accommodate : help it to stimulate immunity & recover vitality.
Open the cap…and breathe… enjoy a healed, refreshing & tonic atmosphere.
Ensure to close the cap after use, then your inhaler may last up to 10 months.
This product is not a medicine. Avoid direct contact with eyes or mucous membranes.
The support of a modern lifestyle
In south-east of Asia, most urbans are carrying a herbal inhaler, like the Cher-aim herbal inhaler. Packed into a glass jar, a stick or a metal box, it's a very popular product all along the day : barely sat in the bus, for example, it's current to see Thai people rushing on their inhaler and smelling its perfume during a few seconds.
Thai plants benefits
To loosen respiratory tracts & sinuses, ease motion sickness, headache or simply during a break at work, to take a big breath of fresh air, this compact & convenient accessory is the way to give it a burst of freshness & vigor.
This pocket-sized pal will always found a welcome room in your purse, your glove compartment, just on your desk or in your cupboard.
Find more about this herbal inhaler in our dedicated News.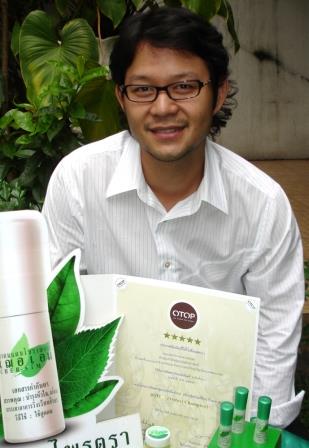 Context. Family business since 4 generation, Cher-aim provides wellness products made with Thai medicinal herbs. In Thailand, knowledge about plants & their use is shared in temples. A century ago, one of the ancestors of Cher-aim has been studying as a monk in Bangkok's Wat Pho, one of the most sacred temples, famous for its traditional medicine school. Nowadays, this influence is still being perpetuated in Cher-aim's products range.
Cher-aim. In ancient Thai, the name "Cher-aim" means fertile tree. This name takes its roots into the field of luxuriance of nature & spreading vitality.
K Tarn & his duty : transmit traditionnal knowledge about herbal uses in Thailand.
Thai traditional medicine has an approach based on energy flow across the whole body. This flows paths, disruption that may obstruct them & the way to restore them have been studied by monks & traditional healer.
Among Thai contemporary urban society, this approach still has a place. In front of disease, the purpose is to consider that the patient seeks to restore the balance by focusing on 3 ways :
An external action (especially through massage or use of medicinal plants applied onto the body)
An internal action (especially through the use of medicinal plants or specific diet)
A spirituality (especially through relaxation techniques)
Those practices were mainly influenced over time by Chinese Traditional Medicine, Ayurveda, yoga & buddhism.
Inhalers, balms, oils & other Cher-aim products are straight on line with this approach. They drew their potential from this heritage of knowledge usually transmetted in Thai Buddihst temples. Nowadays, Cher-aim still has a special relationship with the Wat Pho's traditional medicine school in Bangkok.