Herbal massage ball
Herbal massage ball 150g
Ref.:

000310
Welness heritage from Thailand.

Thai herbal massage ball.
Localized pain (joints, back, neck,…) or just feel like having a full body relaxing massage ?
Try our Cher-aim massage ball with 16 different herbs from Thailand.
What is it about?
In addition to the massage relaxing effect, the Cher-aim ball contents a blend of dry herbs with relaxing, antimicrobial, antiseptic & anti fungal properties very famous into Thai massage tradition.
The whole ball has to be steamed in order to exacerbate all active substances from the herbs, and then to release them when applied on skin. According to Thai traditional massage, the ball is used to be pressed while rolling on the skin.
---
1. Put water to boil in a pot.
2. Hold the massage ball above boiling water during 15 minutes, to steam all plants inside.
3. As the ball temperature allow it, start massage, using short & smooth compressions on skin.
4. Start over at step 2 when the ball has cooled down.
It is quite easier to initate the ball with a steamer. Double-check that the ball is above the water.
---
Massage ball for external use on non-wounded skin. Product containing only a blend of dry herbs.
No essential oil used.
Durability : 3 years. Use within 2 months after opening.
Ingredients : Zingiber montanum, Cryptolepis buchanani, Ginger, Kaempferia galanga L, Turmeric , Bergamot peel, Tamarind leaves, Alyxia reinwardtii var, Curcuma Zedoaria, Kafir lime leaves, Acacia concinna leaves, Camphor, Myrtle grass, Lemongrass, Wild turmeric, Patchouli.
Notice : after use, put the ball into a plastic bag then in the freezer for best conservation within 2 months. During this time, you may use your massage ball up to 5-6 times until the herbs actives end.
Keywords : Massage ball / relaxing / soothing / comforting.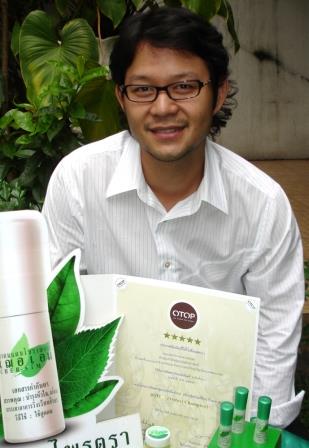 Context. Family business since 4 generation, Cher-aim provides wellness products made with Thai medicinal herbs. In Thailand, knowledge about plants & their use is shared in temples. A century ago, one of the ancestors of Cher-aim has been studying as a monk in Bangkok's Wat Pho, one of the most sacred temples, famous for its traditional medicine school. Nowadays, this influence is still being perpetuated in Cher-aim's products range.
Cher-aim. In ancient Thai, the name "Cher-aim" means fertile tree. This name takes its roots into the field of luxuriance of nature & spreading vitality.
K Tarn & his duty : transmit traditionnal knowledge about herbal uses in Thailand.
Thai traditional medicine has an approach based on energy flow across the whole body. This flows paths, disruption that may obstruct them & the way to restore them have been studied by monks & traditional healer.
Among Thai contemporary urban society, this approach still has a place. In front of disease, the purpose is to consider that the patient seeks to restore the balance by focusing on 3 ways :
An external action (especially through massage or use of medicinal plants applied onto the body)
An internal action (especially through the use of medicinal plants or specific diet)
A spirituality (especially through relaxation techniques)
Those practices were mainly influenced over time by Chinese Traditional Medicine, Ayurveda, yoga & buddhism.
Inhalers, balms, oils & other Cher-aim products are straight on line with this approach. They drew their potential from this heritage of knowledge usually transmetted in Thai Buddihst temples. Nowadays, Cher-aim still has a special relationship with the Wat Pho's traditional medicine school in Bangkok.