Jinxuan
Oolong tea #12
Ref.:

000001
Also called milky Oolong, it is a bright color & light tea with enjoyable creamy mouthfeel.

An excellent approach to discover & savour Oolong tea.
Our Oolong #12 Jinxuan is also widely known as milky Oolong (or Wu Long). To us, it makes sense to describe a creamy unctuous texture than a real milk taste.
We also noticed that this savor denotes pleasantly when brewing into a limestone water (which is usually what you will find across Chartreuse NP !).
Moreover, be sure that this milky savor is naturally liberated : no flavor has been added in that way to our tea during the processing.
Known as "slimming tea" all across Asia, Oolong tea is widely used to ease digestion after rich meals during celebrations.
Available in 100g vacuum packs for a guaranteed freshness.
Quantity for a multiple-brewing serve : 1 teaspoon per person.
Several times brewing with the same leaves.
Recommended temperature: 80-85°C.
Recommended steep duration : less than 1 minute.
Thein level : low (throw away the first brew).
Up to you. Some are enjoying Oolog tea after a single brew. If so, you may use about 5 g of tea for a 500 mL teapot. Wait for 3 to 5 minutes then remove the tea leaves.
Quantity in the teapot for a multiple-brewing serve : 1 teaspoon per person.
Pour boiling water to cover the tea leaves & immediately throw away this first brew.
Then pour the desired quantity of hot water. Let it steep a bit less than one minute, pour it and reserve the leaves for the next brew. Enjoy your tea.
For a perfect control of the brew durations & keep the leaves properly drained between 2 brews, use our glass teapots with infuser.
Across Asia, traditional tea preparations may sometimes become a full ceremony, for instance during family events. The Gongfu cha style is one of these ancestral ways, requiring some cautious operations for each steps & some stuff : porcelain cups to warm, infuser bowls, strainer, some skills for it & last but not least, a reliable timer !
In this way, the aesthetic & harmony quest is as important as the resulting tea taste.
Dragon's eye leaves. Curled up right after the drying step, our Oolong tea leaves are known to look like dragon's eyes : with the ability to be brewed up to 4 times, in order to release their flavor & taste brew after bew as the leaves are getting unfold.
Brewing Oolong tea through multiples short steeping. Even in some tea lovers choose to brew only once their Oolong, our producer K Jatuphon recommends to enjoy Classic Oolong teas through multiples short steeping steps : about 45-50 secondes for each.
To fit Western lifestyle. Brew your Oolong tea on an easy way using our teapots with infuser.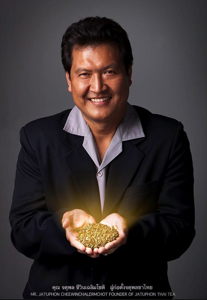 "Frequently, people keep asking me if drinking Oolong tea would affect sleep quality. There's no point as soon as one simply applies the 3 following rules :
Pour boiling water onto tea leaves during 1 or 2 seconds, then throw it away immediately this first brew.
Remember to steep less than 1 minute for each brew.
Use & re-use the same loose leaves several times after draining them."
K. Jatuphon, passionate Oolong tea producer.
Our partnership with K Jatuphon started by early 2014. Since then, Lemon Import supports Jatuphon Thai Tea steps to get compliant with the EU Organic regulation. This tea farming production brought work & professional skills to about 60 families settled down in this highlands area of Northern Thailand.