White Ginseng Oolong
Oolong blend tea
Ref.:

000005
With slight hints of sweetness, this tea from highlands combines ginseng tonic effects with Oolong tea benefits.
You will probably notice it immediately : White Ginseng adds a slight sweetness, in addition to the licorice flavor of this Oolong tea (also called Wu Long tea).
Known as "slimming tea" all across Asia, Oolong tea is widely used to ease digestion after rich meals during celebrations.
Available in 100g vacuum packs for a guaranteed freshness.
Quantity for a multiple-brewing serve : 1 teaspoon per person.
Up to 4 times brewing with the same leaves.
Recommended temperature: 95-100°C.
Recommended steep duration : 50".
Ingredients : Oolong tea (75%), white ginseng powder (25%).
Thein level : low but the ginseng addition has energizing effects
Up to you. Some are enjoying Oolog tea after a single brew. If so, you may use about 5 g of tea for a 500 mL teapot. Wait for 3 to 5 minutes then remove the tea leaves.
Quantity in the teapot for a multiple-brewing serve : 1 teaspoon per person.
Then pour the desired quantity of boiling water. Let it steep a bit less than one minute, pour it and reserve the leaves for the next brew. Enjoy your tea. Instead of our Classic Oolong, there's no need to throw away the first water.
For a perfect control of the brew durations & keep the leaves properly drained between 2 brews, use our glass teapot with infuser.
Our White Ginseng Oolong is produced with Oolong Jinxuan #12 leaves coated with white ginseng powder (Panax Ginseng).
Ginseng. Also called Asian ginseng, this energizing plant has many benefits. Among them, let's name the immunity & vitality reinforcement & an increased concentration ability.
Discretion. As per stimulant substance, it is advised to use it in moderation & to avoid other stimulants or drugs (antidepressants, anticoagulants).
To fit Western lifestyle. Brew your Oolong tea on an easy way using our teapots with infuser.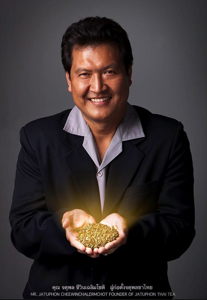 "Frequently, people keep asking me if drinking Oolong tea would affect sleep quality. There's no point as soon as one simply applies the 3 following rules :
Pour boiling water onto tea leaves during 1 or 2 seconds, then throw it away immediately this first brew.
Remember to steep less than 1 minute for each brew.
Use & re-use the same loose leaves several times after draining them."
K. Jatuphon, passionate Oolong tea producer.
Our partnership with K Jatuphon started by early 2014. Since then, Lemon Import supports Jatuphon Thai Tea steps to get compliant with the EU Organic regulation. This tea farming production brought work & professional skills to about 60 families settled down in this highlands area of Northern Thailand.