Relaxing balm
Zingiber Cassumunar Balm: anti-inflammatory
Ref.:

000256
Exhausted ? Scrunched ? Rocky ?
Think about herbal systemic antiinflammatory properties. Think about Zingiber Cassumunar, Curcuma Longa & Curcuma Zedoaria.

In Thailand, Zingiber Cassumunar is an unavoidable simple way to relieve muscular & articular pains (cramps, aches, stiffs, osteoarthritis, rheumatism, tendinitis, etc.).

To heal muscular & articular pains and relax muscles & joints (7-10 days cure, apply before bedtime).
Provide a warming effect 30' after application on skin due to camphor-menthol base.

WE ARE SHIPPING WORLDWIDE FROM FRANCE.
PLEASE EMAIL US FOR ANY INQUIRIES...
Zingiber Cassumunar balm (or Plai) : muscle and joint pain
Massage balm with Zingiber Cassumunar extracts. Like each of our balms, it has a "warming effect" base with expectorant & relaxing properties (Camphor, Eucalyptus oil & Peppermint oil). In addition, Zingiber Cassumunar with the 2 different types of Curcuma are adding another relieving effect as follows.

Exhausted ? Scrunched ? Rocky ?
Zingiber Cassumunar relaxing balm with Curcuma Zedoaria & Curcuma Longa actives.
GINGER CASSUMUNAR, CURCUMA LONGA & CURCUMA ZEDOARIA ROSE :
HEAL MUSCULAR & JOINT PAINS + SYSTEMIC ANTIINFLAMMATORY
What makes it different from other balms ? Also called "Plai" or "Zingiber Montanum"in Thai Traditional Medicine, the Zingiber Cassumunar (from the Zingiberaceae family) is used to relieve muscular or articular pains. Muscular pain, cramp, aches, stiff, joint pains, rheumatism, tendinitis, osteoarthritis, etc. The 2 other actives are also part of the Ginger family and have powerful systemic antioxydant & antiiflammatory properties.
Systemic property of an active make it extremely interessant, as it means the active has the ability to reach the disorder wherever it is located : concerning the use of a balm, it is supposed to be applied on the skin for external use. That is why the systemic antiinflammatory effect of the Plai is widely appreciated across Asia as it helps to relieve muscular pain (related to muscular tissues) and joint issue like arthritis (realted to bone structure).
An essential must-have to heal most daily annoyances !
TWO WAYS TO USE THIS BALM: LOCALIZED APPLICATION BY CURE OR BODY MASSAGE
Localized application by cure.
To reduce inflammatory pain, apply a small amount of balm on the painful area and briefly spread the product with your finger for a few seconds without trying to massage. A small amount is sufficient : we do not try to keep a yellow color. Leave on for 4 to 6 hours (ideally in the evening before bedtime and repeat the operation between 7 and 10 days).
Body massage.
Just like any camphor-based balm, it has an analgesic heating effect within a few minutes after application to the skin. This effect can be sought during relaxing massage of all or part of the body.
Before, during or after exercise ; in pure application or diluted in a bowl of hot water, it is not necessary to "spread a heavy quantity" : a well distributed thin layer is just as effective.
Useful precaution: it is not recommended to expose to the sun the areas on which one has applied balm because the oily texture may have magnifying glass effect.
IN BRIEFLY
Herbal active ingredients :
Zingiber Cassumunar + Curcuma Zedoaria + Curcuma Longa. The use in localized application for curative purposes for inflammatory pain requires an application time of 4 to 6 hours and does not cause heating.
The balm basic ingredients :
Camphor + Borneol + Menthol. The heating effect felt for 1 hour after application is mainly due to the camphor-menthol base of the balm: it relaxes, it soothes, it is pleasant but has no curative function.
Availability
Compact - 22g glass flask (0.78 UK fl oz) = Price : 14€
Family - 65g glass flask (2.29 UK fl oz) = Price : 25€
To choose the desired packaging size from the available formats, use the selector at the top of the page.
The convenient little extra
For all muscle & joint pain, see also our Borneol Oil Roll-on : a versatile product, but so practical and discreet.
---
Apply a nut of balm on skin. Briefly spread with circular gesture.
Durability : 3 years. Use within 3 months after opening.
Ingredients INCI : menthol, borneol, camphor, methyl salicylate, eucalyptus globulus leaf oil, mentha piperita oil, zingiber cassumunar roxb, curcuma longa linn, curcuma zedoaria rose, paraffinum liquidum, petrolatum, paraffin.
Notice : At the first use, try the balm on your wrist to detect any allergic reaction.
Keywords : Zingiber Cassumunar / Zingiber Montanum / Ginger / Plai / Curcuma / Turmeric / ointment / pomade / comforting balm / soothing balm / relaxing balm / rub.
To ease harms in daily life : cramps, stiffs or simple pains. See Description tab to know detailed specs of our balms.
Apply a nut of balm on skin. Briefly spread with circular gesture.
Fit to everyone's style ! Applied locally, to ease itches, burns, skin irritations ; diluted in a warm water bowl for a relaxing full body massage or as a cataplasm to heal respiratory congestions or under the nose to decongest sinuses ways ; our Thai balms cover almost all of these annoyances.
This balm may also be spread on calves, wrists or on back of neck to reduce risk of insect bites.
This product is not a medicine. For external use only on unwounded skin. Avoid direct contact with eyes or mucous membranes. Not recommended for pregnant or breast-feeding women, nor children under 12.
A partner in daily life
In South-East Asia, the use of balm is still very usual on a daily basis. Cher-aim balms are all relaxing when massaging & are easing stiffs & muscular pains. A small quantity is enough to provide a warm effect within a few minutes.
Thai herbs benefits
Thailand has a strong ancient tradition about herbs medicine, famous worldwide. Despite Lemon Import products are not medicine, the use of herbs based actives is in line with this tradition.
Thereby, Clinacanthus Nutans is one of these plants, widely used in traditional thai medicine to ease skin irritations like insects or snakes bites, scorch or sting. Spreading Clinacanthus Nutans on them helps to heal itching & has a immediate soothing effect.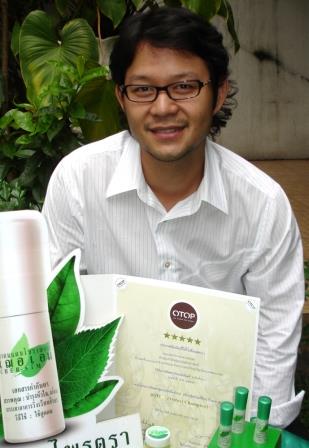 Context. Family business since 4 generation, Cher-aim provides wellness products made with Thai medicinal herbs. In Thailand, knowledge about plants & their use is shared in temples. A century ago, one of the ancestors of Cher-aim has been studying as a monk in Bangkok's Wat Pho, one of the most sacred temples, famous for its traditional medicine school. Nowadays, this influence is still being perpetuated in Cher-aim's products range.
Cher-aim. In ancient Thai, the name "Cher-aim" means fertile tree. This name takes its roots into the field of luxuriance of nature & spreading vitality.
K Tarn & his duty : transmit traditionnal knowledge about herbal uses in Thailand.
Thai traditional medicine has an approach based on energy flow across the whole body. This flows paths, disruption that may obstruct them & the way to restore them have been studied by monks & traditional healer.
Among Thai contemporary urban society, this approach still has a place. In front of disease, the purpose is to consider that the patient seeks to restore the balance by focusing on 3 ways :
An external action (especially through massage or use of medicinal plants applied onto the body)
An internal action (especially through the use of medicinal plants or specific diet)
A spirituality (especially through relaxation techniques)
Those practices were mainly influenced over time by Chinese Traditional Medicine, Ayurveda, yoga & buddhism.
Inhalers, balms, oils & other Cher-aim products are straight on line with this approach. They drew their potential from this heritage of knowledge usually transmetted in Thai Buddihst temples. Nowadays, Cher-aim still has a special relationship with the Wat Pho's traditional medicine school in Bangkok.