Train & recover
Alpinia Galanga Balm : sport & energy
Ref.:

000258
Alpinia Galanga balm : muscle preparation, circulatory stimulation & energizing.

Balm with heating effect dedicated to the practice of sport to be applied directly to the muscle.
- Before exercise : support during the warm-up phase
- During exercise : reduce the risk of injury & improve muscle function
- After exercise : better recovery & maintenance of muscle tissue flexibility

WE ARE SHIPPING WORLDWIDE FROM FRANCE.
PLEASE EMAIL US FOR ANY SPECIAL INQUIRIES.
Alpinia Galanga warming balm, the athlete's complete ally : circulation|inflammation|recovery
I. A warm balm aimed at athletes : muscle preparation, relaxing effect & circulatory stimulant
Alpinia Galanga balm is a unique combination of Alpinia Galanga rhizome, eucalyptus globulus essential oil and peppermint essential oil, originating from Thailand. This formula was created to offer a variety of benefits mainly for regular sports practice thanks to its herbal active ingredients.
In traditional Thai medicine, the rhizome of Alpinia Galanga is prized for its stimulating and analgesic properties, while the essential oil of eucalyptus globulus is known for its antiseptic and anti-inflammatory action. Peppermint essential oil, on the other hand, is used for its cooling and soothing effects.
The health benefits of using this balm.Together, these ingredients create a powerful balm that helps improve physical performance, relieve muscle soreness and fatigue, and speed up post-workout recovery. Practical & easy to use, this product is ideal for athletes looking for muscular performance, especially trail runners, mountain hikers or cyclists.

In Thailand, the rhizome of Alpinia Galanga incorporated in hot balm is applied for its muscle relaxant & circulatory stimulating effect. Its energizing & invigorating scents will be appreciated during sport.
II. The benefits for athletes
Localized circulatory stimulation. The use of Alpinia Galanga balm targets the functioning of the muscular ecosystem by improving blood circulation around the treated area. A simple application to the skin before exercise helps improve blood flow to active muscles during training.
It is also to reduce the occurrence of soreness and muscle cramps, which can be very common in athletes who perform intense workouts. In addition, increased blood circulation will promote the supply of nutrients and oxygen to the muscles, which will increase their overall performance and help them recover faster.
In short, this heating & circulatory stimulation effect offers many advantages for athletes by allowing them to maximize their performance while minimizing their pain and discomfort.
A. A boost when warming up the muscles before exercise
In addition to being a hot balm due to its formulation containing camphor tree resin, the Alpinia Galanga balm prepares the muscles for training by improving their flexibility, thus reducing the risk of injury.
B. Improved muscle performance during exercise
Similarly, applied directly to the calves or thighs, Alpinia Galanga Balm also helps to maximize muscle tissue performance during training thanks to its ability to stimulate blood circulation and relieve muscle pain & fatigue.
C. Aids post-workout recovery
Alpinia Galanga balm relieves muscle tension & maintains flexibility. Applied after exercise, it is a good way to prepare the muscles for the next workout. In addition, again thanks to this same circulatory effect, it accelerates recovery by avoiding cramps & aches and helps to recover more quickly after intensive training.
III. Recommended use of Alpinia Galanga balm
Alpinia Galanga Balm is an ideal solution for athletes looking for training aid & performance enhancement. For best results, it is recommended to use the balm as follows:
A. Spot Application and Friction
Apply the balm to areas of muscle tension and rub in gently. This method is particularly effective for muscle warm-up before exercise. Be careful, however, to protect the application areas in the event of direct & prolonged exposure to UV rays.
In winter, a simple application on the feet before training constitutes a triple action in favor of performance & comfort: increase muscle performance by its effect stimulating blood circulation, fight against the cold & antifungal effect.
B. Inhalation of scents
Apply a small amount of balm under the nostrils and enjoy the energizing and expectorant scents of the balm as well as the aromatic effects of eucalyptus and peppermint essential oils. The decongestant effect of the balm by inhalation improves general oxygenation, essential for good muscle function.
C. Massage
Use the balm to massage sore muscles after workouts for fast pain relief. It is possible to dilute the balm in a bowl of warm water if you approach areas where the skin is thin: armpit or groin for example.
Dosage. It is recommended to use a small amount of the balm for optimal use without discomfort: when you spread this small amount on the skin, the coloring of the balm should fade until it disappears.
Note: to avoid staining your clothes, remember not to apply too much balm and to be sure to spread it until the color disappears.
IV. Conclusion
Alpinia Galanga balm is a simple & natural product that offers many benefits for athletes. Its heating effect & its unique composition of Ginger Alpinia Galanga and other herbal active ingredients relieves muscle and joint pain, improves muscle function during exercise & accelerates recovery after exercise, in particular by stimulating blood circulation . The recommended use is simple & easy, just apply the balm to the affected areas before, during or after exercise depending on the desired effect.
In conclusion, the Alpinia Galanga balm is a wise choice for athletes concerned about their health and well-being. Its targeted action and effective formula make it an ideal addition to any fitness program. If you are looking for a herbal boost to improve your athletic performance, then Alpinia Galanga balm is for you.
Availability
Compact - 22g glass flask (0.78 UK fl oz) = Price : 14€
Family - 65g glass flask (2.29 UK fl oz) = Price : 25€
To choose the desired packaging size from the available formats, use the selector at the top of the page.
The convenient little extra !
For all muscle & joint pain, see also our Borneol Oil Roll-on : a versatile product, but so practical and discreet.
---
References :
Publications on the anti-inflammatory effects of Alpinia galanga rhizome in modern scientific literature.
"In vitro anti-inflammatory activity of Alpinia galanga rhizome extract and its potential mechanism of action." : This study investigated the anti-inflammatory activity of Alpinia galanga rhizome using in vitro models of inflammation and showed that the rhizome extract had an inhibitory effect on the production of pro-inflammatory cytokines.
"Anti-inflammatory and analgesic activities of Alpinia galanga rhizome extract in animal models." : This study evaluated the anti-inflammatory and analgesic effects of Alpinia galanga rhizome in animal models and showed that the rhizome extract had significant anti-inflammatory and analgesic activity.
Apply a nut of balm on skin. Briefly spread with circular gesture.
Durability : 3 years. Use within 3 months after opening.
Ingredients INCI : menthol, borneol, camphor, methyl salicylate, eucalyptus globulus leaf oil, mentha piperita oil, Alpinia Galanga, paraffinum liquidum, petrolatum, paraffin.
Notice : At the first use, try the balm on your wrist to detect any allergic reaction.
Keywords : Alpinia Galanga / Ginger / Greater Galangal / Lengkuas / Laos / Thai Ginger / Laja / Romdeng / Pa De Kaw / Kha / Nankyo / Hong Dou Kou / Pae-Reeya-Ra-Thai / ointment / pomade / muscle preparation / circulatory stimulation / antiinflammatory / energizing balm / soothing balm / relaxing balm / rub.
A partner in daily life
In South-East Asia, the use of balm is still very usual on a daily basis. Cher-aim balms are all relaxing when massaging & are easing stiffs & muscular pains. A small quantity is enough to provide a warm effect within a few minutes.
Thai herbs benefits
Thailand has a strong ancient tradition about herbs medicine, famous worldwide. Despite Lemon Import products are not medicine, the use of herbs based actives is in line with this tradition.
Thereby, Clinacanthus Nutans is one of these plants, widely used in traditional thai medicine to ease skin irritations like insects or snakes bites, scorch or sting. Spreading Clinacanthus Nutans on them helps to heal itching & has a immediate soothing effect.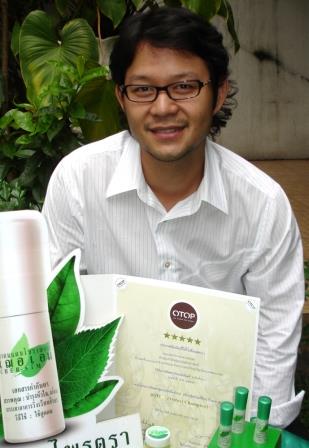 Context. Family business since 4 generation, Cher-aim provides wellness products made with Thai medicinal herbs. In Thailand, knowledge about plants & their use is shared in temples. A century ago, one of the ancestors of Cher-aim has been studying as a monk in Bangkok's Wat Pho, one of the most sacred temples, famous for its traditional medicine school. Nowadays, this influence is still being perpetuated in Cher-aim's products range.
Cher-aim. In ancient Thai, the name "Cher-aim" means fertile tree. This name takes its roots into the field of luxuriance of nature & spreading vitality.
K Tarn & his duty : transmit traditionnal knowledge about herbal uses in Thailand.
Thai traditional medicine has an approach based on energy flow across the whole body. This flows paths, disruption that may obstruct them & the way to restore them have been studied by monks & traditional healer.
Among Thai contemporary urban society, this approach still has a place. In front of disease, the purpose is to consider that the patient seeks to restore the balance by focusing on 3 ways :
An external action (especially through massage or use of medicinal plants applied onto the body)
An internal action (especially through the use of medicinal plants or specific diet)
A spirituality (especially through relaxation techniques)
Those practices were mainly influenced over time by Chinese Traditional Medicine, Ayurveda, yoga & buddhism.
Inhalers, balms, oils & other Cher-aim products are straight on line with this approach. They drew their potential from this heritage of knowledge usually transmetted in Thai Buddihst temples. Nowadays, Cher-aim still has a special relationship with the Wat Pho's traditional medicine school in Bangkok.