Daily relief
Citronella Menthol Balm: versatility & comfort
Ref.:

000260
Citronella Menthol cold balm
The everyday comfort ally : all-in-one, simple & practical.

- Applied to exposed areas, it repels insects.
- On bites, it relieves pain & itching.
- Applied in massage, it relieves back pain.
- Applied to the feet, it relieves overheating & pain after a hike.
- Applied around the nails, it acts against nail fungus.
- By inhalation, it decongests the ENT pathways & helps to breathe better.
- By inhalation, it relieves malaise, motion sickness, anxiety or suffocation crisis.

WE ARE SHIPPING WORLDWIDE FROM FRANCE.
PLEASE EMAIL US FOR ANY SPECIAL INQUIRIES.
Antimycotic|relieves pain|insect repellent|soothes bites|releases ENT pathways|improves oxygenation
A formula based on citronella oil, menthol, borneol & camphor
Thanks to menthol, Lemongrass Menthol balm produces a cold effect on contact with the skin. With its camphor resin dosage reduced to 6%, it is also resolutely oriented towards well-being and everyday comfort.
Citronella oil (or Lemongrass oil)
A discreet & pleasant fragrance that soothes, naturally repels insects (particularly useful in mosquito-infested areas), relieves bites, helps fight headaches, nausea & insomnia.
Menthol, borneol, camphor
Dosed at 12%, menthol provides this cooling effect on the skin during application.
Combined with borneol & camphor tree resin (6%), it acts as a local anesthetic.
On their own, these 3 ingredients combine multiple comfort properties, whether in localized skin application, body massage or inhalation.

In Thailand, cold menthol balm combined with lemongrass oil is applied as an insect repellant & soothing in case of sting. By inhalation, it helps to decongest the ENT tract.
In which cases should I use Lemongrass Menthol balm?
Localized application
Unlike the Zingiber Cassumunar Balm which has a heating & curative effect on inflammatory pain, the Citronella Menthol balm will immediately give you a cold effect that relieves muscle and joint pain. This balm is recommended in case of back pain related to unsuitable postures (non-ergonomic sitting position for example).
Malaise & headaches. You can also apply a small amount of balm to the temples to calm headaches, stress or apply under the nostrils to dissipate nausea & discomfort.
To stay focused during a working day, spread a little balm on the wrists or in the hollow of the neck to benefit from its attenuated scents.
Antifungal action. After having attended a public swimming pool or in the event of mycosis on the feet or around the nails (onychomycosis), it is of great help in eradicating the fungi. Ideally, after the shower & just before going to bed, perform a brief foot massage emphasizing the edge of the nails & the intervals between the toes. Leave to act overnight.
Similarly, a light foot massage during the break during your hikes can relieve & cleanse painful feet (risk of toenail fungus) but also to soothe overheating of the feet following a long walk with closed shoes (risk of blisters). Do not apply on a wound.
Intestinal spasms. In case of digestive pain, apply a hazelnut of balm on the abdomen and spread widely. The refreshing effect combined with the analgesic & anti-inflammatory properties of the balm will relieve this discomfort in a few minutes.
Inhalation : ENT decongestant effect & improved oxygenation
After only a few deep inhalations, the dilating effect of the Citronella Menthol balm on the ENT pathways allows you to feel a decongestion of the respiratory system. This dilating effect is temporary but it reduces the discomfort associated with seasonal conditions (sinusitis, rhinitis, colds, fever) & allergic attacks (hay fever, dust mites, plane trees & other plant species).
In the same way, this dilating effect significantly improves oxygenation, dissipating discomfort, motion sickness, stress, anxiety or suffocation attack. Simple & effective.
Finally, the sanitizing effect of inhaled air is linked to the antiseptic active ingredients contained in the scents of camphor, borneol & menthol. These create a medium in the nasal cavities that weakens inhaled pathogens.
Body massage
At the end of the day, a body massage using the Citronella Menthol balm helps to relax the muscles, improve blood circulation & promote sleep.
Finally, the balm can be applied to the exposed parts to benefit from the insect repellent effect of lemongrass essential oil. If you have just been bitten, spread a little balm on the bite to instantly relieve the discomfort.
How to use Lemongrass Menthol balm?
Localized application
Dosage. A small amount of balm spreads in seconds. Leave on for 2 hours without massaging. That's all it takes. Once properly spread, the coloring of the balm should fade and disappear.
Inhale
- Apply a very thin layer to the thumb, wrists or under the nostrils
- Inhale the scent slowly and deeply
Body massage
Take a dab of balm on one hand. Distribute by rubbing hands together in a circular motion. Massage the desired area.
It is possible to dilute the balm in a bowl of warm water if you approach areas where the skin is thin: armpit or groin for example.
Availability
Compact - 22g glass flask (0.78 UK fl oz) = Price : 14€
Family - 65g glass flask (2.29 UK fl oz) = Price : 25€
To choose the desired packaging size from the available formats, use the selector at the top of the page.
The convenient little extra !
For all muscle & joint pain, see also our Borneol Oil Roll-on : a versatile product, but so practical and discreet.
---
Apply a nut of balm on skin. Briefly spread with circular gesture.
Durability : 3 years. Use within 3 months after opening.
Ingredients INCI : menthol, borneol, camphor, citronella oil, paraffinum liquidum, petrolatum, paraffin.
Notice : At the first use, try the balm on your wrist to detect any allergic reaction.
Keywords : citronella grass / citronella oil / lemongrass oil / cymbopogon nardus / ointment / pomade / cold balm / refreshing balm / antifungal / analgesic / anesthetic / inhalation / rub.
A partner in daily life
In South-East Asia, the use of balm is still very usual on a daily basis. Cher-aim balms are all relaxing when massaging & are easing stiffs & muscular pains. A small quantity is enough to provide a warm effect within a few minutes.
Thai herbs benefits
Thailand has a strong ancient tradition about herbs medicine, famous worldwide. Despite Lemon Import products are not medicine, the use of herbs based actives is in line with this tradition.
Thereby, Clinacanthus Nutans is one of these plants, widely used in traditional thai medicine to ease skin irritations like insects or snakes bites, scorch or sting. Spreading Clinacanthus Nutans on them helps to heal itching & has a immediate soothing effect.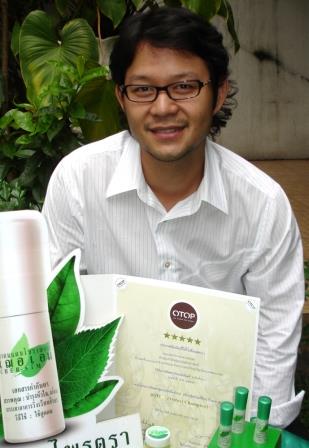 Context. Family business since 4 generation, Cher-aim provides wellness products made with Thai medicinal herbs. In Thailand, knowledge about plants & their use is shared in temples. A century ago, one of the ancestors of Cher-aim has been studying as a monk in Bangkok's Wat Pho, one of the most sacred temples, famous for its traditional medicine school. Nowadays, this influence is still being perpetuated in Cher-aim's products range.
Cher-aim. In ancient Thai, the name "Cher-aim" means fertile tree. This name takes its roots into the field of luxuriance of nature & spreading vitality.
K Tarn & his duty : transmit traditionnal knowledge about herbal uses in Thailand.
Thai traditional medicine has an approach based on energy flow across the whole body. This flows paths, disruption that may obstruct them & the way to restore them have been studied by monks & traditional healer.
Among Thai contemporary urban society, this approach still has a place. In front of disease, the purpose is to consider that the patient seeks to restore the balance by focusing on 3 ways :
An external action (especially through massage or use of medicinal plants applied onto the body)
An internal action (especially through the use of medicinal plants or specific diet)
A spirituality (especially through relaxation techniques)
Those practices were mainly influenced over time by Chinese Traditional Medicine, Ayurveda, yoga & buddhism.
Inhalers, balms, oils & other Cher-aim products are straight on line with this approach. They drew their potential from this heritage of knowledge usually transmetted in Thai Buddihst temples. Nowadays, Cher-aim still has a special relationship with the Wat Pho's traditional medicine school in Bangkok.